This is a new feature for the WTA. Here's how it works: WTA Members who would like to be considered to be Guest Wellness Practitioners will be listed on this page. Hotels, wellness resorts and retreats, tour operators, and retreat leaders who might like to work with these members are welcome to reach out to them directly to explore opportunities and negotiate fees and services. Negotiated contracts are strictly between the individual and the company hiring the individual. The WTA holds no responsibility for individual contracts but simply acknowledges that the individuals listed here have met the basic criteria of the WTA and are Members in good standing.
Eva Redpath
Eva Redpath is a Toronto-based certified Co-Active® Life Coach, award-winning wellness leader, event host, and keynote speaker.
She is also a health and fitness expert with a career spanning over 15 years including being selected as Equinox Signature Program Presenter and Canada's first Nike Master Trainer. Regularly featured in the media for her expertise, Eva's passion is to help women achieve their highest potential in all facets of their lives using the tools and resources she provides.
When she's not coaching clients or leading corporate retreats you'll find Eva on various platforms as a Canadian wellness ambassador for a variety of notable brands. Check out her website!
"My career has included everything from being helicoptered to the top of a frozen mountain in Bugaboo, BC to being driven nine floors down in a parking garage to a secret soccer pitch. I've led workouts on top of 16-foot cubes in New York City during fashion week, floating barges on Lake Ontario, stages on Santa Monica Pier, and to 3,000 women in Mexico City. My mission is to provide my clients with the tools, support, and strategies to allow them to transform themselves and their lives so that they can achieve the happiness and success they want and deserve. You can reach out to me at eva@evaredpath.com"
Devon Combs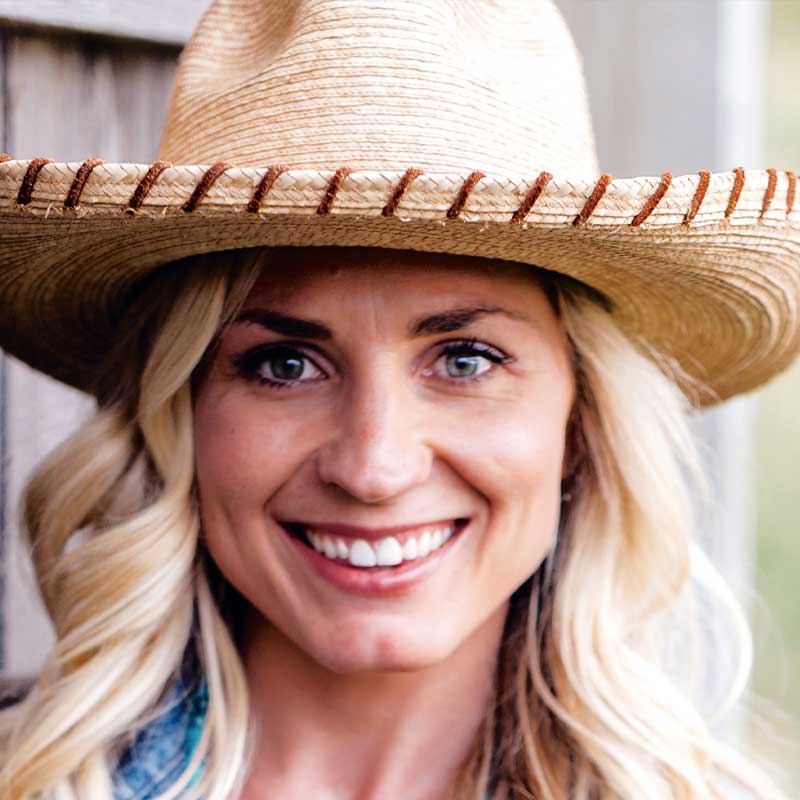 Devon Combs is the founder and leader of award-winning Unbridled Retreats® for Women.
Named "Equestrian of the Wellness World" by esteemed Canyon Ranch Resort in Arizona, Devon helps women find purpose through the healing power of horses. Her synergy with horses and intuitive coaching provide profound breakthroughs for women seeking to unlock their potential.
A lifelong horsewoman with a charismatic and down-to-earth attitude, Devon experienced the healing powers of horses firsthand. Her empathic work with others grew directly out of her own journey through bulimia and depression. When at the crossroads, equine therapy saved her life. Her experience opened the door to her life's work transforming women's lives through horses. To learn more about Devon and her transformative retreats, visit UnbridledRetreats.com
"I help women find clarity and purpose through the healing power of horses. For over a decade, I have led equine retreats at wellness resorts and ranches including Canyon Ranch in Tucson, Arizona, Gateway Canyons Resort & Spa in Colorado, and Alisal Ranch in California. The Unbridled Retreat® is an equine experience for women which produces life-changing results: lowered stress, heightened self-awareness, deep emotional healing, and increased self-confidence. Our demographic is women ages 25-80 and includes successful, high-achieving women who prioritize spiritual wellness and life balance."
This nature-based wellness retreat offers a unique guest experience and many attendees return annually, bringing friends and family to join them in this life-changing experience. For more information on bringing the Unbridled Retreat® to your Resort, please email Devon@UnbridledRetreats.com.